Donald Trump Suggests EU Commissioner 'Hates the U.S. Perhaps Worse Than Any Person I've Ever Met'
President Donald Trump called Fox Business on Wednesday and appeared to take aim at Margarethe Vestager, Europe's firebrand Commissioner for Competition.
"You have a woman in Europe, I won't mention her name...she hates the United States perhaps worse than any person I've ever met," Trump said in an apparent reference to Vestager while discussing anti-trust law.
On Wednesday, the European Union opened yet another investigation into whether a U.S. company, the semiconductor company Broadcom, is violating the EU's competition rules. The investigation will center on Broadcom's chipsets for televisions and Internet modems.
"We suspect that Broadcom…has put in place contractual restrictions to exclude its competitors from the market," Vestager said in a statement on Wednesday. "This would prevent Broadcom's customers and, ultimately, final consumers from reaping the benefits of choice and innovation."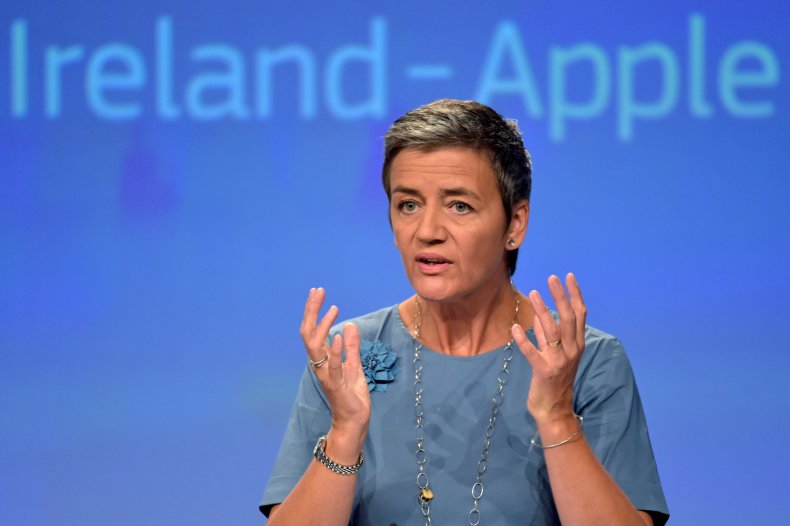 Also this week, the European Union fined the U.S. chip firm Qualcomm for the second time for antitrust violations. Last year the company was forced to pay a $1.13 billion fine.
President Trump on Wednesday appeared to suggest that Vestager was launching these investigations due to a dislike of the U.S. as opposed to real concerns about competition. But Vestager is known to have strong opinions about the tech industry and how it should be regulated. She fined Google billions of dollars last year in order to compel the company to give consumers more search engine options.
Trump, meanwhile, doesn't appear to be completely opposed to anti-trust arguments. On Wednesday, he told Fox Business that the U.S. government should also be suing tech companies like Google and Facebook, and said that, "you may need legislation in order to create competition."
Nevertheless, he took issue with European allies suing American firms. And his complaints about tech giants like Google and Twitter were based on his perception that they are hurting his campaign for reelection by making it difficult for users to find him. He did not present any evidence for this assertion.
Anti-trust legislation in the U.S. is generally under the purview of the Federal Trade Commission and the Department of Justice, not the White House.
Trump's opinions about Vestager, meanwhile, have the potential to shape the U.S. relationship with the European Union. In the wake of the European parliamentary elections, as EU leaders enter negotiations about who will take the top job as President of the European Commission, Vetager has emerged as a top candidate. She has the backing of key leaders like France's President Emmanuel Macron. Danish Prime Minister Lars L?kke Rasmussen has also thrown his weight behind her candidacy.
Donald Trump Suggests EU Commissioner 'Hates the U.S. Perhaps Worse Than Any Person I've Ever Met' | World